You've got a fabulous deal lined up, and stand to make big profit, but you're afraid the other person will back out or scam you. Here's a simple formula I developed to help you count your chickens before they're hatched (or stolen). This works in recruiting, real estate, storefronts, restaurants, contracting, web design, or anyone else who runs the risk of not getting paid, or worse, getting ripped off entirely.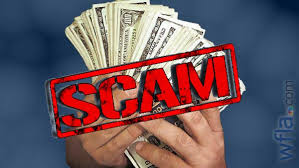 The Risky Buy
So you've decided to start a business buying and selling gold, but you have no idea how to tell real gold from fake gold. Gold is currently $1,000 per bar. You're talking to a guy who wants to sell you gold for $800. That's a great profit, but you figure there's about a 15% chance the gold is totally fake. This means that you have a 15% chance of losing your $800 investment, but an 85% chance of making $200 profit. On average, in the long run, you will make $50 profit on this transaction, so even with a 15% chance of getting scammed, you come out ahead.
Gain – Loss = Profit
0.85 * $200 – 0.15 * $800
$170 – $120 = $50
The Risky Sell
You have a guy trying to buy your gold.  You know this gold is real, but he has doubts.  He wants to take it to his friend to inspect it, then come back and pay for it. He's offering to pay $1,200 if it's real, and putting down a $900 dollar deposit to ensure he comes back. After looking at his $900 deposit, you suspect TWO of the bills might be counterfeit. In this case, your potential loss is $300 (since gold is currently worth $1,000, and two of the bills he's giving you for deposit might be fake, you can only rely on $700), your potential profit is $200 (since the $1,200 sale price minus the base cost is $200). You are having a hard time reading the guy, and aren't sure how trustworthy he is. Here's the formula for that:
(1-S)*P – S*L = A
Where S is the chance of getting scammed, P is the profit if it succeeds, L is the loss if it fails, and A is your average expected profit. If we knew what our chance was of getting scammed, we could figure out the average expected profit. Lets do it the other way; set the average profit to 0 (break even) and see what kind of odds we would need. Solve for S
(1 – S)*P – S*L = 0
P – PS – LS = 0
P = PS + LS
P = S*(P + L)
P/(P + L) = S
So the profit we stand to make, divided by the sum of the profit AND the loss, is the frequency with which we can get scammed and still run a profit. In our case above, with a base line of $1,000, a $900 down payment (only $700 of which we are sure is real), and an expected final payout of $1,200, our profit is $200 and our potential loss is $300
$200/($200 + $300) = S
S = 40%
This means that if 40% of the people scam us (or, if we're about 40% sure this is a scam), we can still break even. In order to make this profitable, we have to feel that more than 60% of the people will come back, or if exactly 60% come back, raise the price above $1,200, and we can still run a profit.  If the realization that at least 60% of the people will need to come back freaks you out, don't do the deal.  If you're pretty sure 60% of the people will come back, go for it.
The Sales Forecast
Say we decide gold is too risky, and we start brokering deals for other gold merchants. Any of the people might back out, or the deals might fall through, but you've got bills to pay and your weekly profit is all over the place, so you want to try to figure out what type of income you're going to make for this week. Apply the formula to each individual sales chance and add it up:
S = Chance the person will back out, or deal falls through
L = 0 (you lose nothing if you don't broker the deal)
P = How much will you make in profit if the deal closes
SP + SP + SP + … + SP = Monthly Profit.
So say you have 3 people who you expect to make $1,000 profit if it closes, but odds are only 1/5 people will close, and you have 2 people who you expect to make $500 from, with a 1/3 chance they close.
3 * $1,000 * 1/5 + 2 * $500 * 1/3 = $600 + $333.33 = $933.33
Even thought it could be as low as zero, or as high as $4,000, you can expect to make about $933.33 on long term average.
Conclusion
In retail it's called "shrink", in Vegas it's called "house advantage", and in restaurants I'm pretty sure it's called "Hey, that jerk didn't pay his bill!".  In contracted web development and software design, we call it "business as usual".  No matter what it's called, it's OK to get scammed once in a while. Just don't use 100% of your funds in a single transaction.
Rather than trying to find a surefire way to make a transaction scam-proof, or find a way to outsmart the con artists, just try to master the art of figuring out what the odds of getting scammed are, pay attention to how often you're getting scammed, build it into your profit margin, and let probably take care of you. Everybody gets ripped off sometimes, but remember, if you figure it up and have a negative long term average but decide to go through with a transaction anyway because the profit is just too tempting to say no, you may as well close your business and take your money to Vegas.  At least there after they scam you, they give you a free Gin & Tonic (I have a formula for that, too; one part gin, one part tonic).