People hate Monday. It's named after The Moon (dumb), and is the business week's farthest point from Friday. I greet everyone with "Happy Monday" every week. Being viewed as cheerful greases the wheels of business, but being perky all week takes too much effort.  Embracing something as dreaded as Monday puts you in a positive light right at the start of the week, while at the same time being somewhat quirky and joking.  It's like you're smiling and saying "Haha, Monday sucks, but what can ya' do about it, eh?"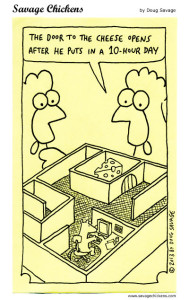 May as well do it with a smile…
When I was about 5, I was playing video games and my dad came in and told me to clean my room.  Like a seasoned defense attorney making a final statement, I whirled into a counter-argument citing all the reasons not to clean my room, how I was almost to the final boss and I hated doing it and you could barely see the greasy fingerprints covering everything.  My dad listened patiently, and after I was done complaining, he banged the dad-gavel and said "Guess what, you STILL have to clean your room, but now you've wasted video game time, and I'm also annoyed at you".  As I served my 10 minute sentence, the words sunk in, and somehow I got it; if you HAVE to do something, you may as well pretend to like it, or you don't get as much credit for doing it. It took me almost as long to complain about it as it would have taken to do it, and several minutes before I finished my dad came back in to make sure the lesson stuck and reminded me "If you hadn't wasted all that time complaining, you'd already be killing the final boss". Sulking around doing something slowly is wasting your own time.  With that short sentence, my dad had engineered a child that raced to complete tasks as quickly as possible (while of course being careful to do it right so I didn't have to go back and do it over again), which continues on to my aggressive approach to tasks as an adult (and my tactful dodging of any "non-necessary" work).  Yet many adults still have tantrums at work (albeit the professional equivalent of a tantrum, a tantrum none the less).  Complaining about your workload doesn't actually make it lighter, if anything it makes it FEEL heavier, makes it TAKE longer, and makes your boss HATE you.
But I HATE Scrubbing the Toilets…
"Johnson!  I need you to scrub the toilets."  Oh, awesome, I LOVE scrubbing toilets!  You may be thinking "if the boss thinks you like it, he'll make you do it all the time, but if you act like you hate it, he'll pick someone else next time".  Yes, he'll pick someone else… someone else to promote next time he's got budget for a raise. Guess what, EVERYONE hates scrubbing toilets, and your boss isn't going to believe for a second that you actually love it, but you're communicating to your boss that you can be relied upon. If you love EVERYTHING, for a while you may get the tasks no one wants, but in short time the boss will realize that you can be trusted with higher responsibility tasks, and will come to rely on you for dealing with problems.  Bosses don't want to lose good employees, and a half-decent boss will not react to this attitude by dumping garbage on you, but by instead reserving you for important things and probably pampering you a bit when those "dummy projects" come around that are a lot of miserable work that literally anyone can do. Those types of projects always get dumped on the grumps, because they'll get it done well enough, and who cares if they quit? The secret is, those who work happier tend to get less work to do, and those that complain about work tend to stay busy. You don't need to work harder or do the job better, you just need to remember to whistle while you work, get it done fast, do it right the first time, and be consistent. If you follow these rules, then in a short time you'll either have a promotion, a raise, or at the very least a great referral for a better company that appreciates an enthusiastic toilet scrubber.